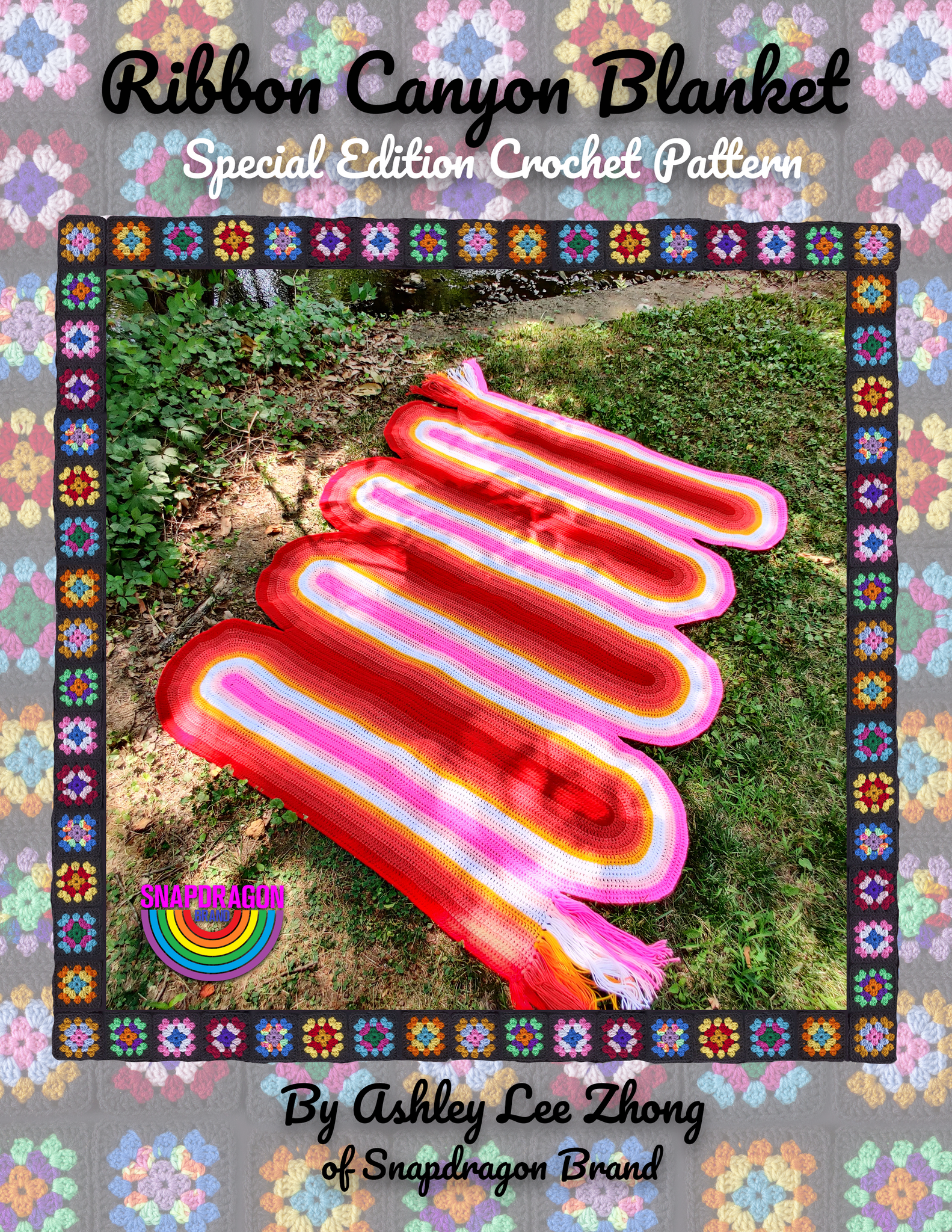 Ribbon Canyon Blanket Special Edition Crochet Pattern
"Ribbon Canyon" is inspired by 1970s interior design and the undulating curve of a river, carving solid stone into sweeping canyons over the millennia. It looks complicated, but it's simply a matter of taking time to understand how the pattern works and being meticulous during your setup. The whole design is built from a simple foundation. Once that's completed, this project is a relaxing double crochet daydream.

Level: Intermediate or Ambitious Beginner. To complete this project you must  be able to maintain even tension, stitch confidently into starting chains, and enjoy doing double crochet forevah! 

I think you will find the varying techniques in this pattern to be more stimulating than thinking in rectangles, but not necessarily more complicated. It is an enjoyable make that you'll be able to watch Netflix during after the first row.
This Special Edition Pattern has all the directions you need to create a blanket like the one on the cover. Includes written English directions with ample Charts, Diagrams and Photos for support. It has become a book as I've edited and updated and expanded the included resources. 
Details: 
Completed project is 60x81" with adaptations for Twin, Full, Queen, King, and Custom sizes (I did the math for you!)
Americans terms, Imperial and Metric Measurements
Requires roughly 3,400 yards of worsted weight yarn (218 yards per row)
Suggester Yarn: Knitpicks Brava Worsted Acrylic
I or 5.5mm Hook
Includes Beginner Pattern Reading Guide and Swatching Tutorial

Digital Download:

 

you will not receive a physical product*
Click the button at check-out to seamlessly add to your Ravelry account
30 Pages
Additional Content
Swatching Guide with Chart to learn Ribbon Candy Crochet Style
Process Photo Gallery 
Yarn Guide with 2 Colorways
Color Planning Worksheet
Custom Sizing Guide: Twin, Full, Queen, King, Custom
Bonus Scarf Pattern
16 Row Pattern Upgrade 
18 Row Pattern Upgrade
Staggering Increase/Decrease Guide
3, 6, and 8 Stripe Coloring and Planning Pages to make Flag Designs
This pattern is listed on Ravelry too, so you can add it to your favorites and share your projects. 
You will have the opportunity to download your pattern through the site after checkout, or from your email. See FAQ for PDF download instructions.
*I cannot offer returns on Digital Content. Please be mindful that this is a digital pattern. You will not receive anything in the mail. You are buying my ideas.
"Living" Document Promise: This pattern is in its 4th published edition. It contains all necessary information to make my original design. It has been professionally edited and tested by myself and my amazing testing crew. Pattern Updated on March 22, 2022.
Please consider your purchase to be an investment in my development as an artist. I promise to continue improving this document as I learn and grow. Feel free to message me for pattern help through any of my social media accounts or by joining "Snapdragon Brand Pattern Help & Hangout" on Facebook. 

Thank you for believing in me.

-Ashley Lee Zhong,
Snapdragon Brand