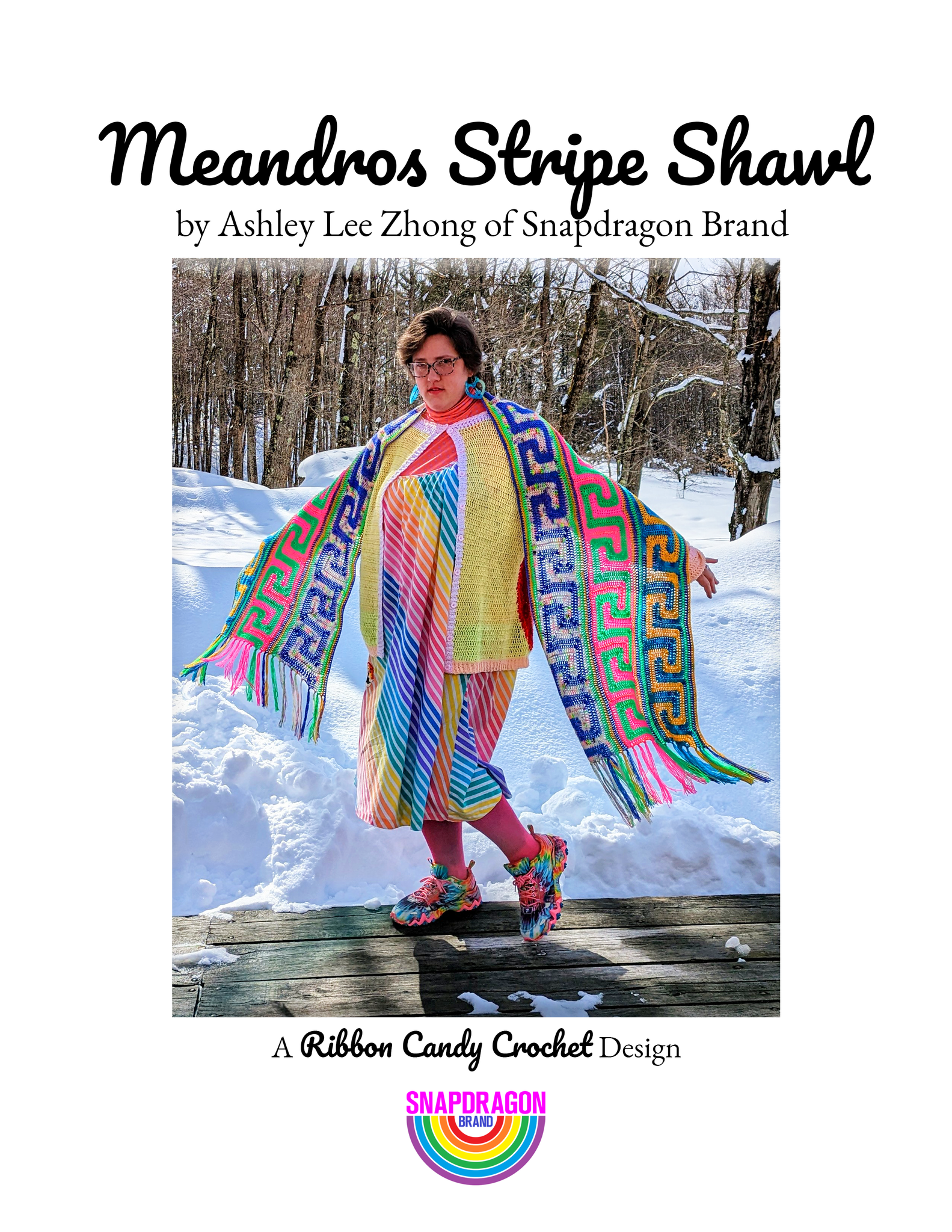 'Meandros Stripe' Shawl Downloadable Crochet Pattern
First you'll get addicted to the pattern...
Then, you'll fall madly in love with your shawl!
Meandros Stripe Shawl is a breezy, lightweight and practical accessory for Spring. Inspired by the infinitely versatile "pashmina," this shawl is the perfect size for everyday wear and comes in handy in all kinds of weather. 
The design is built around three stripes of an ancient Greek Meandros or "Key" pattern. This mysterious motif has popped up all over the world throughout history and continues to remain a popular design in high fashion and architecture. You can read a concise and engaging history of the Meandros HERE. 
My downloadable crochet pattern includes all the information you need to make your own Meandros Stripe Shawl. With written English instructions, ample Charts, Diagrams and Photos for support. 
Details: 
1 original Shawl Pattern with charts, photos and illustrations
"Sizing Guide" for adjusting the length and width of your shawl

American Crochet Terms, Imperial and Metric Measurements
Written for 1,989 yards of Fingering weight yarn, 4 mm (G) hook
Includes PLT Method tutorial, Fringe Guide and Color Planner 
Digital Download:

 

you will not receive a physical product*

Click the button at check-out to seamlessly add to your Ravelry account (must use the email connected to your Ravelry)
11 Pages
Additional Details:
Finished Shawl Measurements: 93x20" (236x51 cm), when made in Fingering Weight wool.

Recommended Wool: KnitPicks Stroll Fingering in 6 shades
This pattern is listed on Ravelry too, so you can add it to your favorites and share your projects. 

Presented in full-color, perfect for high-quality printing. 

You will have the opportunity to download your pattern through the site after checkout, or from your email. See FAQ for PDF download instructions.
Project Tags: Mention @SnapdragonBrand and Use the tags #meandrosstripe and #ribboncandycrochet to have your project featured.
Level: Intermediate. To complete this project you must be able to read a chart or a pattern, maintain even tension, count accurately, and stitch confidently into starting chains. Meandros Stripe Shawl is a fun and repetitive pattern but may be difficult for beginners due to the "turned" Column construction. 
I recommend that all crocheters new to my Ribbon Candy Crochet techniques download and complete my Swatching Guide. It will teach you the basics and prepare you to begin any of my designs with confidence. 
If you are a beginner and would prefer a gentler introduction to my techniques, I suggest my Ribbon Candy shawl or scarf book. These patterns contain more straight lines of crochet, simple increase curves, and are an excellent stepping stone to more complex Ribbon Candy Crochet patterns. 
*I cannot offer returns on Digital Content. Please be mindful that this is a digital pattern. You will not receive anything in the mail. You are buying my ideas.
"Living" Document Promise: This pattern is in its 1st published edition. It contains all necessary information to make my original design. It has been tested by myself and my amazing testing crew. Pattern last updated on April 5, 2023.
Please consider your purchase to be an investment in my development as an artist. I promise to continue improving this document as I learn and grow. Feel free to message me for pattern help through any of my social media accounts and become part of the Snapdragon Brand community by joining "Snapdragon Brand Pattern Help & Hangout" on Facebook. 

Thank you for believing in me.

-Ashley Lee Zhong,
Snapdragon Brand